The US Super Bowl attracted over 97.5 million of viewers last Sunday night (around 450.000 in France). This is the second most watched TV program in the US history ! Let's focus on this amazing event.

97.500.000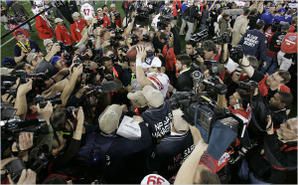 The US Football Final is one of the most popular event of the country.
It is not only a sport event. This is just a National event such as the Football/Soccer World Cup for the rest of the world or the Olympic Games. A huge ceremony watched by all members of the family. Aired on
Fox
, the Superbowl - won by the New York Giants - reached a peak of over 107 millions of Americans ! This audience enters the history of US television .

2.700.000

In terms of revenues,
the 30s spot cost 2.7M$ (2M€) ! This is probably one of the most expensive in the world. Fox has aired 63 spots. According to
Sportbusiness.com
, Fox revenues would be 125M£ thanks to the Super Bowl 2008.